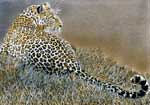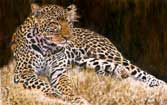 "Zawadi"
Zawadi is the leopard of "Big Cat Diary" fame. Jonathan Scott has filmed her and her mother "Half Tail" for the BBC and Animal Planet since she was a tiny cub. She is what is called a habituated leopard meaning she is used to photographers in vehicles and tolerates their presence. She is still very much a wild leopard and an incredibly beautiful one. Zawadi's range includes a beautiful area known as Leopard Gorge. In this area there are many hiding places, caves, rock crevices, huge fig trees (I have the urge to climb every one I see and someday…....) There is a lot of vegetation in this area making it ideal for the illusive leopard. Zawadi means "the gift" in Swahili and indeed she gave us the great gift of her presence late one afternoon near the end of our first safari. There were ominous growls coming from the thick vegetation where we saw a leopard disappear moments before. Suddenly, Zawadi walked out of the bushes to a nearby termite mound in the open and the perfect stage for photographing her. She lay upon the termite mound for 15 to 20 minutes and groomed herself, slept a little, and turned around several times as if to give each of our four land rovers surrounding her a chance at a different view. She did not show the slightest bit of discomfort by our presence. The camera shutters were going off constantly and we were loading new rolls of film at a furious pace. She got up finally and disappeared into the bushes again and we could hear all the noises of a breeding leopard pair. She came back out a second time and took her place atop the termite mound. Unfortunately it was time for us to get back to camp. The light was fading fast and everyone has to be out of the Mara reserve by sunset or face possible fines or worse so we had to say goodbye to an unforgettable experience. We never saw the male leopard even though we heard him and knew he was very near. He clearly was not a habituated leopard.
We had seen Zawadi's daughter, Safi, earlier that afternoon in another area. While not as cooperative as her mother she did not seem to be fearful of our presence. Safi is now an adult with her own territory.
We left Africa knowing that we would return the next year in anticipation of seeing Zawadi's cubs. If all went well with the breeding, they would arrive late September, early October and be out and about by late November. The chances of seeing them were pretty good as everyone who visits and especially the driver/guides are all familiar with her area and would be keeping a watch.
2002. We returned in late November hoping to see Zawadi's cubs. The scouts had been out every day and knew that she had given birth to two cubs. When we arrived they had not seen Zawadi or the cubs for several weeks. At the last sighting there had been only one cub. This was not a good sign and we were very eager to find them. On the day of the lion killing we were in Leopard Gorge looking for Zawadi. We found her late that afternoon. She was clinging to a limb high atop a fig tree and three young lions were laying at the bottom looking intently up at her. It was again near sunset so filming was very difficult. I got a record shot of her in the fading light but no sign of any cubs and our fears were that the lions had gotten them. That is often the fate of the young of all species.
There is a down side to this story. While a habituated leopard is most welcomed by photographers, becoming habituated is very bad for the leopard. A leopard without fear of humans is a very vulnerable animal. This was the last time we were able to find Zawadi in 2002 even though we spent a couple of more days in the area searching for her. We heard a rumor before we left and it made our hearts hurt. Seems there was an East Indian fellow who wanted to buy a leopard cub and he had been making inquiries around the time of the last cub sighting. Because of the economy of East Africa and a 60% unemployment rate, we have no doubt that a substantial sum of money would yield the man a leopard cub and how easy it would be to take a trusting leopard's cub. We hope and pray this rumor was false but the fact that we could not find Zawadi easily was an indicator that she may now be wary of humans and vehicles and the fact that no one had seen her or her cubs for several weeks leaves us little hope. One side is, we hate it that a leopard so trusting may have lost her last cub in a most cruel way, the other side is we hope she will now be more wary even though we may never have the opportunity to see her again. But I shall never forget her and have painted her more than once and will continue to bring her to life in my work. Return